Wellbeing
Support in Halls
Student life is about being independent, but that doesn't mean you won't still need a little help sometimes. Our Residence Life team is there to support you throughout your time in our accommodation. They are the first point of contact and can signpost you to other university or community services should you need it.
Accommodation Team
Our Accommodation Team is accessible 24 hours a day by email or phone, or you can just pop into the 24-hour reception at either The Village or The City. Whether you've lost your key, have a question about your room or you just want a cup of tea and a chat, the team are always around to help out. We can also arrange to mediate issues within your flat or respond to problems around the accommodation sites.
t: 0116 252 2428
Residence Life Support
Our Residential Advisers (RAs) in your halls and the residential managers are specially trained in student support and signposting to university and community services that are best placed to help you. If you are unsure what to do or need a chat with a member of our team about a problem you are having, drop in to your site reception or get in touch with us:
Let's Catch Up
Once a term, the Residence Life management team will come round and visit you in your accommodation to check in and see how things are going. You'll be notified of this with a card under your door informing you of the date and time of their visit. This is just a brief visit to make sure things are going well. If you're not in we'll pop back another time.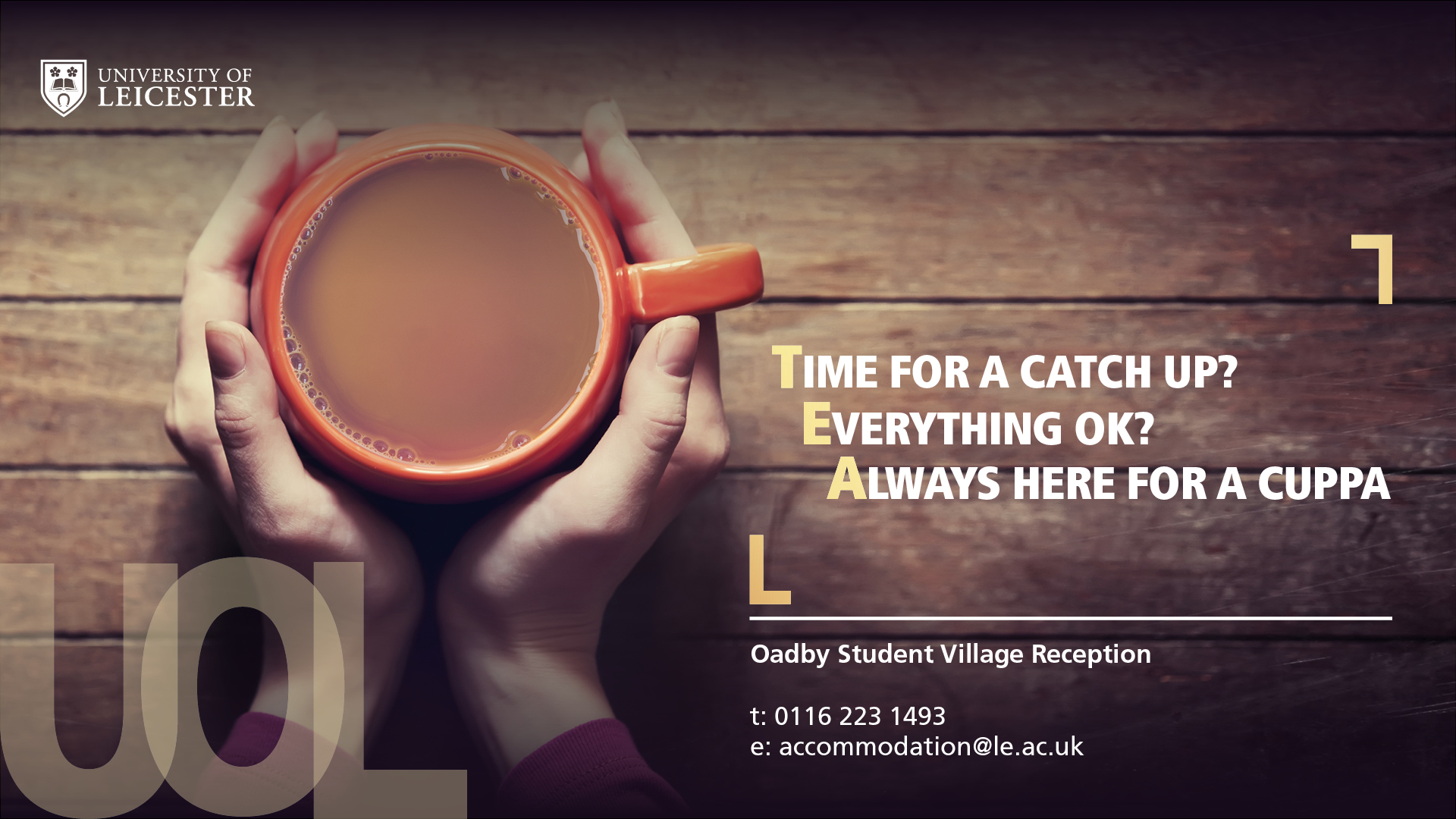 ©University of Leicester
Student Welfare Service and Counselling
The Student Welfare Service offers general and specialist advice on a wide range of issues including finance, leaving care, unexpected incidents and other personal issues. They provide a practical service designed to meet the needs of all students (including applicants/prospective students).
The Wellbeing and Counselling Service offers support for students who are finding it difficult to cope with issues in their personal life, including stress and anxiety. This support can be through face to face appointments or group activities and the service is located primarily in the Charles Wilson Building.
Both these services offer appointments or drop-ins in The Village as well as in the Student Services Centre in the Charles Wilson Building. You can arrange these appointments directly with the services or through the Residence Life Team.
Topics